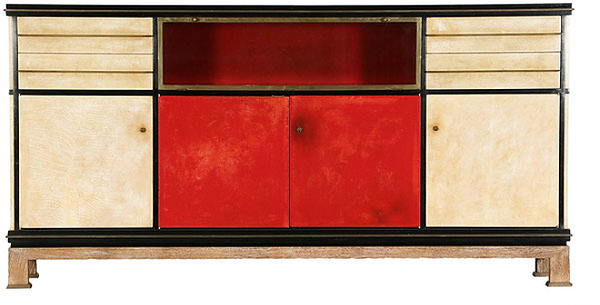 Important Parchment Covered and Black Lacquered Wood Cabinet/Enfilade by Paul Dupre Lafon
Important black lacquered wood, goatskin and red leather covered credenza by Paul Dupré Lafon, the front and sides decorated with bronze mouldings and drawer pulls. Glass and bronze drop front center vitrine with fitted with a beautiful red interior. Double drawers to each side over a set of four doors . Resting on a limed oak square base fitted with bronze mounts. France: circa 1950 Reference: p: 10-11, 86,98,141,147,193 196 for similar models in Dupré Lafon décorateur des millionnaires par Thierry Couvrat Desvergnes Éditions de L'amateur Provenance: Private collection Palm Beach Florida , property designed and decorated by Peter Marino Architect for George Lindemann, see the cabinet in situ in the last photo). Paul Dupré-Lafon trained as an architect but worked primarily as an interior designer. Originally from Marseille, it took him only five years to establish himself in Paris and by the late 1920s he was creating entire interiors for wealthy clientèle including the bankers Dreyfus and Rothschild. He has been described as 'décorateur des millionaires' (a designer for the billionaires) (T. Couvrat-Desvergnes, Paul Dupré-Lafon, Décorateur des Millionnaires, Paris, 1990) and for forty years worked as such. He was a reserved man preferring not to show his designs in exhibitions, but instead concentrating all his energy on his projects. His furniture combined the functionality of modernist design with the luxury of art deco. It was critical to Dupré-Lafon that his furniture should not only be works of art but also should serve its users and be practical. Creating impressive forms that communicate a sense of power and grandeur through their simplicity, curves and angles filled him with fascination. The present cabinet illustrates Dupré-Lafon's skills, uniting function with aesthetic qualities.
width

90.5

height

46 in.

depth

17 in.
condition

Very good original , wear consistent with age and use. The cabinet has been professionally re-polished.
Circa 1950