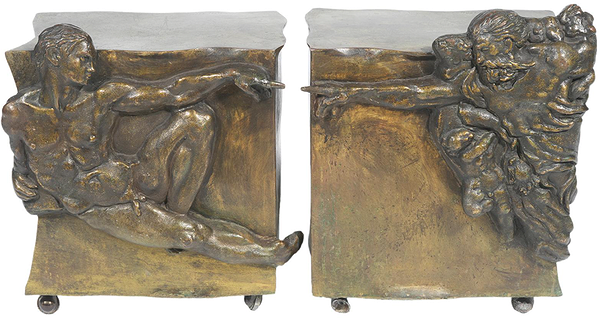 Rare Pair of Cast Bronze Side Tables "Creation of Man" by Philipp and Kelvin Laverne
Rare pair of cast bronze side tables "Creation of Man" by Philipp and Kelvin Laverne Engraved signature on top. USA circa 1965 Philip (1907-1987) and Kelvin (b. 1937) LaVerne were a New York-based father and son collaborative duo best known for their use of innovative metalworking techniques to produce custom-made, limited editioned furniture which integrated art and design. Born in New York City, Philip LaVerne studied under Ashcan School painter John Sloan at the Arts Students League of New York. Kelvin LaVerne, also born in New York, pursued metal sculpting and furniture design at the Parsons School of Design and, like his father, studied at the Arts Students League as well. In the late fifties, the two began collaborating, eventually opening a showroom on East 57th Street in Manhattan. Working primarily in pewter and bronze, Philip's role concentrated on the materials and decorative elements, while Kelvin focused on the overall form and functionality. Combining modern and traditional designs, their subjects centered mostly around historical civilizations, mythology, and chinoiserie, later gravitating towards more abstracted works. Patterns range from the figural, like "Chan", "Ming" and "Festival" to the abstract, such as "Eternal Forest", "Viola" and "Etruscan". Since Philip's death in 1987, Kelvin has ceased production of their famed Historical Series, however, he still creates pieces under both their names to this day.
width

17 in.

height

21 in.

depth

11 in.
condition

good original condition.
Circa 1965